After suffering a second crushing blow to her Brexit deal, Britons' sympathies for the prime minister appear to be running out.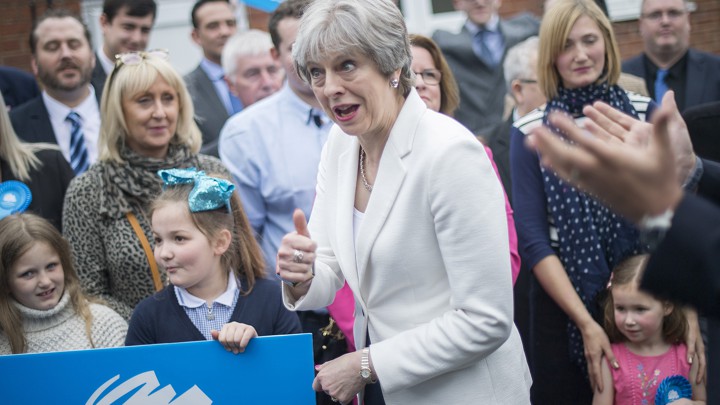 Theresa May greets supporters in Dudley, England,
LONDON—When Theresa May took to the dispatch box to stage yet another—ultimately futile—defense of her Brexit deal before the House of Commons, she was barely audible. The British prime minister had lost her voice.
Observers described the scene as "
painful
" and "
awful to watch
." Even those who stood to contest her deal couldn't help but express some sympathy. "Most of us when we're unwell can take to our beds," said the independent lawmaker Anna Soubry, who just weeks earlier had
resigned
from May's Conservative Party over its handling of Brexit. "This prime minister simply battles on, and that's appreciated."
Such is the cult of sympathy for May. Love or hate her Brexit strategy, abhor or defend her political record, support for the prime minister has remained a relative constant for the past two and a half years. But after suffering another crushing blow to her negotiated agreement on the terms of Britain's withdrawal from the European Union, this time by a vote of 391–242, within weeks of Britain's scheduled departure, that sympathy appears to be wearing thin.
In many ways, May has been treated as the underdog of Brexit. The common refrain is that she has been given an impossible brief: to deliver on a referendum result she didn't support, all while battling EU negotiators, an emboldened opposition, and rebellious members of her own party. She has survived
innumerable crises
, from deadlocked negotiations with Brussels to cabinet resignations and efforts to undermine her leadership. Where other prime ministers might have resigned, she stood firm,
earning accolades
for her dogged resilience. And despite May losing her governing majority, numerous ministers, and the confidence of nearly a third of her Conservative Party colleagues,
more Britons
prefer her in Downing Street over the opposition Labour Party leader, Jeremy Corbyn.
None of this is to say that May is a great prime minister—much less a good one. Her decision to trigger Article 50, the time-limited process for Britain's withdrawal from the EU, without a plan for what kind of deal her government would ultimately pursue proved to be a strategic blunder; her repeated insistence that leaving the bloc without a deal would be preferable to leaving with a bad one
a self-inflicted wound
. No prime minister in the country's modern history has suffered a parliamentary defeat as big as she has. Her Churchillian strategy to "
keep buggering on
" was only bolstered by the fact that there simply didn't seem to be any viable alternatives who could take over.
Where May lacked control, she at least had sympathy. It has not, however, been unreserved, and
many
an
argument
has been made about whether it's deserved at all. With another parliamentary defeat under her belt, the question remains if there is any sympathy left. A
snap poll
by the London-based pollster Hanbury Strategy for Politico found that half of 500 voters surveyed think May should resign, compared with 32 percent who think she should stay. Nearly a third of those who support her resignation are from her own party.
Even if the grudging sympathy disappears, that doesn't necessarily mean May will, too. Her survival of a no-confidence motion by her Conservative Party colleagues in
late December
has made her virtually untouchable until the end of the year, and attempts by the opposition to bring down her government have
proved similarly futile
.
Perhaps the greatest thing working in the prime minister's favor is the one thing the country is running out of: time. With its legal departure date fast approaching and no extension yet secured, Britain simply doesn't have the time to replace May. For better or for worse, the country is stuck with this prime minister. And having lost control of the the Brexit process long ago, the prime minister is stuck without a plan.
You almost have to feel sorry for her.