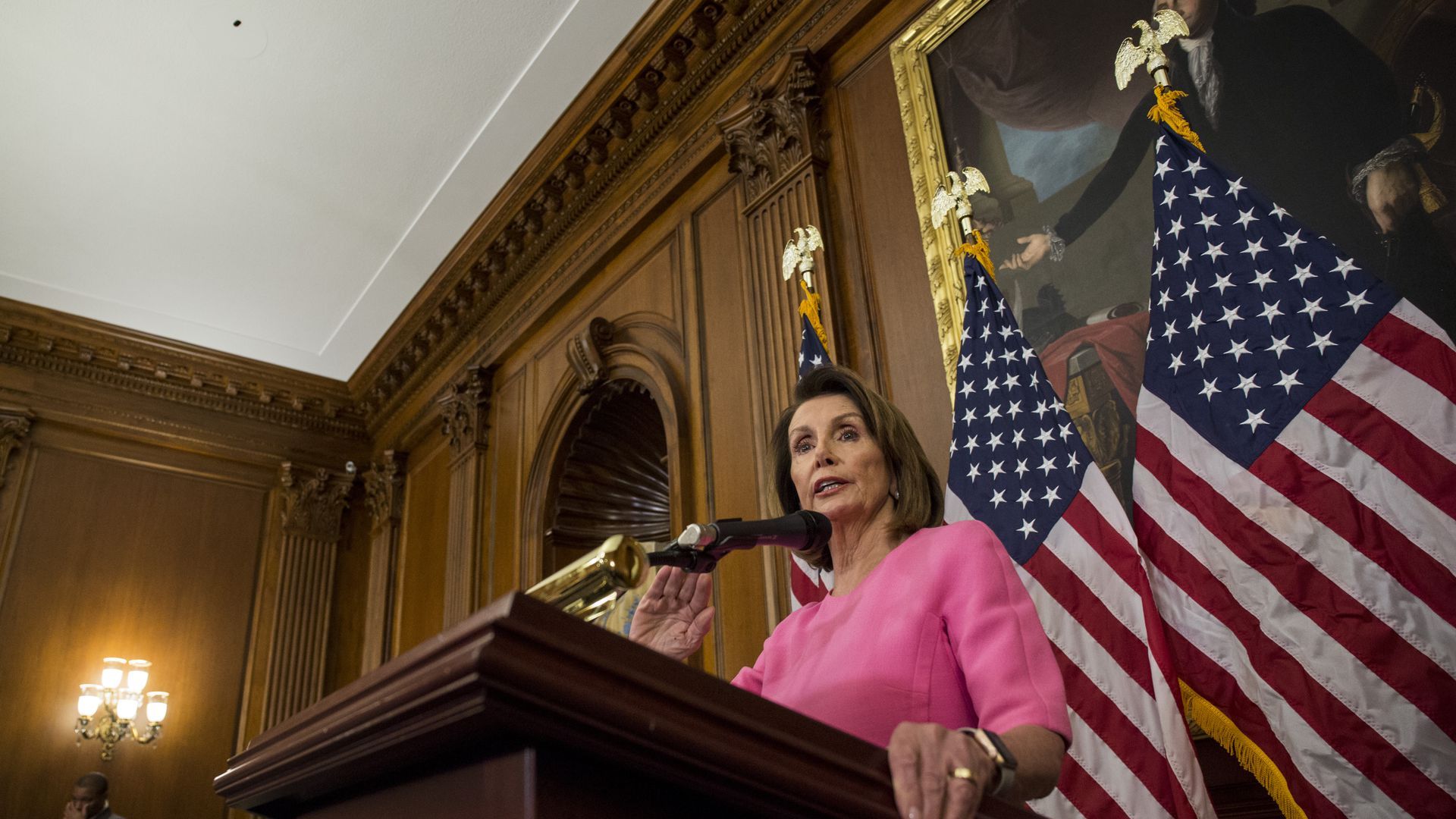 Nancy Pelosi. Photo: Zach Gibson
House Republicans and Democrats will soon elect their leaders to take them through the 2020 elections. Here's a read of the field, from well-placed Republican and Democratic sources.
What's happening: Republicans go first, holding their leadership elections on Wednesday.
Kevin McCarthy is expected to be the minority leader. His only challenge comes from the Freedom Caucus' Jim Jordan, and nobody seriously expects Jordan to trouble him. This will be McCarthy's first time in charge of the Republican conference. But he has experience helping Republicans win back power. As chief deputy whip, McCarthy played a key role in recruiting the class of Republican candidates that flipped the House in 2010.
Steve Scalise, who is popular within the conference, will be the minority whip. There was plenty of speculation that he would challenge McCarthy for the top job, but he's chosen not to.
Liz Cheney of Wyoming is expected to be the House Republican Conference chair.
Insiders consider Rep. Tom Emmer of Minnesota the leading contender to run the House Republicans' campaign arm, the National Republican Congressional Committee.
House Democrats plan to hold their leadership elections on Nov. 28.
Nancy Pelosi is the overwhelming favorite for speaker and doesn't currently face a serious challenger. Many Democrats consider her the best person to keep the caucus disciplined enough to balance investigations of the Trump administration with an ambitious agenda. And some of the most powerful progressive groups and leaders — including
EMILY's list
,
Planned Parenthood
and
AFL-CIO leader Richard Trumka
— have endorsed her.
Steny Hoyer of Maryland is expected to continue as majority leader.
Jim Clyburn of South Carolina is expected to be the house majority whip. Colorado Rep. Diana DeGette is challenging him,
running on the idea
that Democrats need to "repay" the trust of female voters by electing more women to leadership. The Congressional Black Caucus backs Clyburn, and DeGette's bid seems ill-fated.
Cheri Bustos of Illinois is a favorite to lead the Democratic Congressional Campaign Committee. She'd be the only member of Democratic leadership from a Trump district, and she has made that understanding of red America a
key part
of her pitch for the job. Reps. Denny Heck, Suzan DelBene and Sean Patrick Maloney are also vying for the job. All four are members of the moderate New Democrat Coalition.