Winston Peters, leader of NZ First that holds balance of power, says unelected board members will decide next week to support Labour or National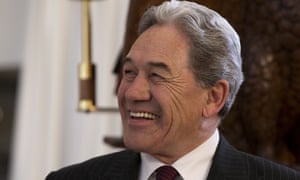 Maverick MP Winston Peters is happy to keep the nation waiting. Photograph: Mark Baker/AP
Nearly three weeks after New Zealand's general election, the country is waiting for an anonymous, unelected board of individuals belonging to a minor party to make a decision on who forms the next government.
Winston Peters
, leader of the party holding the balance of power, has said the New Zealand First board – membership of which he will not reveal – will have the final say on which of the major parties he will go into coalition with.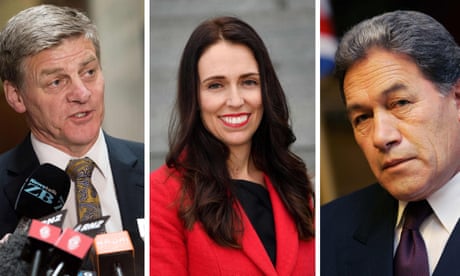 New Zealand party leaders woo Winston Peters' support after election stalemate
Read more
However, Peters says those members have yet to ask for time off work and others have funerals to attend before they can gather to decide.
The news means
New Zealand
is set for further days of political stalemate with no government likely to be formed imminently.
After the 23 September election the National party was left with 56 seats and Labour 46 – both short of the 61 needed to form a government in the 120-seat parliament. NZ First, which secured nine seats, is seen as the king-maker.
The Green party won 8 seats and leader James Shaw has repeatedly said his party have committed to supporting Labour.
Peters had said he would make a decision on which party he would throw his support behind by 12 October and talks with both parties concluded on Thursday night.
But the self-imposed deadline has now passed and Peters has advised he may need until the end of next week to reach a decision, which must be approved by the caucus and the NZ First board.
The stalling tactic is frustrating voters who have already waited weeks for a solid outcome to the election.
Peters has meanwhile requested that the privacy of NZ First's board be respected, a move that has left journalists
scouring social media
in an effort to piece together the identities of the men and women who are now charged with deciding the make-up of New Zealand's next government.
The board is made up of a collection of private citizens including a number of people who stood for NZ First in their electorates or have long-standing affiliations with the party. Some names that have been revealed include Kristin Campbell-Smith, a former policy analyst at the department of internal affairs, Toa Greening, who stood for the Papakura seat and enjoys mountain biking and Thai food, and South Island party vice-president John Thorn, of whom little is known.
Peters said on Thursday it was unclear when the board would be able to convene as members had to fly in from different parts of the country, some had not applied for leave from their jobs and a couple had funerals to attend.
On Friday Peters said his board will meet on Monday. Earlier he revealed any further negotiations with National and Labour will be concluded by phone and text message.
'Stupid and mindless'
The NZ First leader's insistence that the identities of the board members remain a secret has been criticised by political commentators, who say New Zealanders have a right to know which group of people will be charged with making the country's biggest political decision in nearly a decade.
"The next government won't be decided by voters – but by a faceless and secretive board," wrote Fairfax media's political editor Tracy Watkins
in an opinion piece
on Friday. "This is the scenario that Peters is asking the public to accept without question – in fact, Peters has slapped down journalists' questions about NZ First board members as 'stupid and mindless'."
Newshub's political editor Patrick Gower said Peters was holding the two major parties
"hostage"
, as well as the media and voters,
while the New Zealand Herald's political editor Barry Soper said
, referring to the anonymous board members: "It could be Maud from Mataura or Doug from Dargaville who'll be deciding who's going to govern us for the next three years."
In a statement Peters released on Thursday asking for the board members' privacy to be respected he said: "They are not politicians but New Zealanders who believe in the party and wish to make a contribution to the decision-making process.
"They give up their valuable spare time to take part in board meetings and attend to other matters, and we are grateful for that.
"New Zealand First values transparency but we also value an individual's privacy especially when they volunteer their services."
Deputy prime minister Paula Bennett described the week as "really full-on" to
the AM show
, and said policy negotiations had gone on for "hours and hours and hours". Labour's deputy leader Kelvin Davis said his party and NZ First had so far discussed only policy points, and the conversations had been "really nice". He said he thought Peters' decision could go either way.
"Obviously they [NZ First] have got to chew the fat amongst themselves and see which way they are going to go … we respect that."
A National/NZ First government would have 65 seats, while a Labour/Greens/NZ First government would have 63 seats.