With first round of the presidential vote taking place on Sunday, Emmanuel Macron accuses rivals of exploiting attacks
France
goes to the polls on Sunday with terrorist violence casting a long shadow over its fraught presidential election, after the shooting of a policeman on the Champs Élysées deepened already bitter political divisions.
Candidates with radically opposing visions for the country's future clashed openly over the response to the killing, claimed by Islamic State less than 72 hours before polling stations open.
The frontrunner, Emmanuel Macron, accused his two closest rivals of using the killing of Xavier Jugelé, 37, and the serious wounding of two other police officers on Thursday night to score political points before Sunday's first-round vote.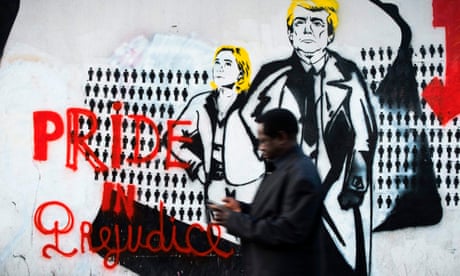 Donald Trump: Marine Le Pen is 'strongest candidate' in French election
Macron suggested the far-right Front National leader, Marine Le Pen, with whom he is neck-and-neck in polling for the first-round vote, and the rightwing candidate François Fillon – currently in third place – were engaging in one-upmanship in their response to the attack. Hardline statements from Le Pen and Fillon spoke of a country "at war" with radical Islam, which they described as organised, expansionist, totalitarian and barbaric.
The gunman, identified by prosecutors on Friday as Karim Cheurfi, 39, had a long record of violence against police including two attempted murders.
Shot dead as he attempted to flee the scene after firing on a police van with an automatic rifle, he was reportedly under surveillance by intelligence services but was not flagged as a potential jihadi threat.
The US president, Donald Trump, offered a tacit endorsement of LePen, describing her as the "strongest" candidate.
The US president told the Associated Press that although he was not "explicitly endorsing" the leader of the Front National, she was the "strongest on borders, and she's the strongest on what's been going on in
France
."
Earlier on Friday Trump tweeted that the attack would have a "big effect" on the election, adding: "The people of France will not take much more of this."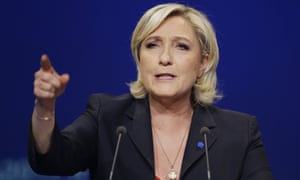 Facebook
Twitter
Pinterest
Marine Le Pen branded Islamic extremism a 'barbaric and monstrous totalitarian ideology'. Photograph: Michel Euler/AP
Campaigning for the first round ends at midnight on Friday and polls suggest any two of four leading candidates could go through to the runoff on 7 May.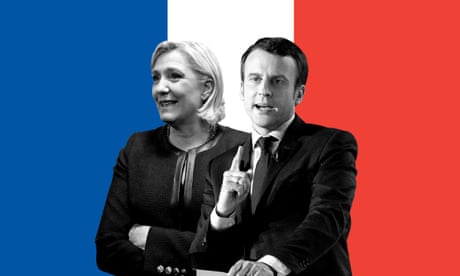 French elections: all you need to know
Read more
The French prime minister, Bernard Cazeneuve, said the government had reviewed its extensive election security measures and was fully mobilised in the wake of the attack. He appealed for national unity and for people "not to succumb to fear".
Cazeneuve said more than 50,000 police and gendarmes and 7,000 soldiers would be on duty for Sunday's first-round vote in the two-stage election, and nothing could be allowed to "hamper this democratic moment".
Macron, a former investment banker and economy minister running as an independent centrist, said in response to the attack that it was vital for people to summon a "spirit of responsibility in what is an extreme period" and come up with a measured response to "a tragic event that has left our country in grief".
"We must not give way to panic, nor in any way allow any attempt to manipulate these events," he said at a press conference. "The terrorists want to destabilise the country … at a time when the French are deciding on their future."
He promised that if elected he would create a presidential unit to "work around the clock" to tackle Isis. "A vigorous offensive will be taken to fight Islamic radicalisation, especially on the internet," he said. "This is a moral challenge, a challenge for civilisation."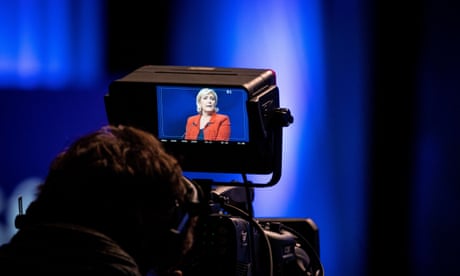 How Marine Le Pen played the media
He accused Le Pen of lying when she claimed she could have prevented previous attacks if she had been in office. "She won't be able to protect our citizens," Macron said.
Le Pen, widely seen as taking the hardest line on security, had earlier taken a characteristically tough stance against Islamic extremism, branding it a "barbaric and monstrous totalitarian ideology" and insisting France immediately take back control of its borders from the European Union.
She said France must engage in a "war against terrorism" and accused successive French governments of being too lax towards fundamentalists. She demanded the immediate expulsion of foreigners linked to Islamism and flagged as suspects considered a potential risk to national security.
Those with joint nationality should be stripped of their French citizenship and expelled to their country of origin, she said. "This war is asymmetric and revolutionary. It is a war in which all the population, all the country is targeted. It is obviously a war we cannot lose," Le Pen told journalists.
"The Islamist, Salafist ideology has no right to be in France and should be banned. Preachers of hate should be expelled and their mosques closed."
Like Le Pen and Macron, Fillon, the rightwing candidate whose campaign has been hit by allegations he paid his wife, Penelope, public money for parliamentary assistance she did not provide, cancelled planned end-of-campaign meetings on Friday.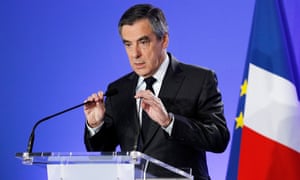 Facebook
Twitter
Pinterest
François Fillon. For years, he said, 'I have been warning that we are confronting an Islamic totalitarianism.' Photograph: Yoan Valat/EPA
He said France must show it was united, and not afraid. For years "I have been warning that we are confronting an Islamic totalitarianism, in other words, an ideology that is radical, organised and expansionist," he said.
"I've not stopped warning the government and my compatriots about the breadth and depth of that totalitarianism whose goal is to destroy our civilisation and crush all enemies from south-east Asia right up to west Africa."
Cazeneuve criticised Le Pen and Fillon's reactions, claiming they were excessive and divisive. He said Le Pen "seeks, after each drama to exploit it to manipulate and divide in order to shamelessly exploit the fear and emotion for exclusively political ends".
The Champs Élysées reopened on Friday morning having been sealed off for much of Thursday night as police ordered tourists back into hotels and blocked people from approaching the scene. Emergency vehicles blocked access and metro stations were closed.
France has been on its highest possible level of terror alert since the 2015 Charlie Hebdo and
Paris
attacks and the Nice truck attack of July 2016. Thousands of troops and armed police have been deployed to guard tourist hotspots such as the Champs Élysées.
This week, two men were arrested in Marseille on suspicion of planning an attack before the election. A machine-gun, two handguns and 3kg of TATP explosive were found at a flat in the southern city, along with Isis propaganda material.
Polls have suggested Le Pen and Macron are the most likely candidates to go through to the second-round runoff, but Fillon and the hard-left candidate Jean-Luc Mélenchon are only two or three points behind, and up to 25% of voters have yet to make up their minds, making the race impossible to call.