Most political parties are seen as toxic brands by young people. So marketers are trying some new tactics to get more of them to put a cross in the ballot box, reports Meg Carter
Meg Carter
Brand awareness: campaigns like #VOTESELFISH attempt to connect with a young demographic who could determine the general election
Personal attacks, mud-slinging, celebrity endorsement, scare tactics, brightly coloured buses and getting creative with the facts have long been an essential part of any political party's election campaign toolkit. Who can forget the Tories' "New Labour, New Danger" poster featuring a demon-eyed Tony Blair? But rarely do such techniques stir much interest among the under-25s – a problem a number of new initiatives are trying to address.
Last week, the Government announced a £530,000 campaign to persuade students to register to vote, ahead of the general election in May.
Russell Brand has a lot to answer for – young people are among the sections of the British population least likely to vote. Just 44 per cent of British 18- to 24-year-olds voted in the last general election compared to 76 per cent of over-65s, according to the League of Young Voters, a grassroots campaign to get young people to register to vote, which launched last year.
Furthermore, some 44 per cent of 18- to 25-year-olds – up to three million young people – had yet to decide how to vote in the general election (according to research published in December 2014 by the think-tank Populus for Demos). Worse still, political parties are among the country's most unpopular brands.
Ukip was cited by 30 per cent of people when they were asked which brand they most hated – a figure that rose to 58 per cent of 18- to 24-year-olds – closely followed by the Tories in second place with 27 per cent, according to Brand Love, a survey just launched by the advertising agency Isobel. Labour and the Liberal Democrats came in at fifth and sixth most hated, respectively.
So the Government is to team up with the National Union of Students to fund a competition to get students to come up with creative marketing ideas to persuade other young people to register to vote. The best will be developed, backed by Government funding.
But are official initiatives such as this missing a trick? Youth marketing experts certainly think so. "Is a self-generated campaign by the very young people who aren't interested in voting the best approach? I don't think so," says Luke Williamson, creative director of the London ad agency Fabula, which is behind a new campaign called #VOTESELFISH. Nevertheless, inspired by the discovery that few, if any, of his staff (most of whom are under 30) bothered to vote at last year's European Elections, Williamson asked two 24-year-olds on his team to create a non-party political campaign to convince themselves to vote and got the agency to fund putting the message out there.
Meanwhile, the Tories are spending heavily to get down with the kids via social media – reportedly spending £100,000 per month on Facebook alone. And Labour is running an online youth consultation to inform a manifesto for young Britain, which it will publish later this month, following its recent pledges to cut a third from student tuition fees and give 16-year-olds the vote.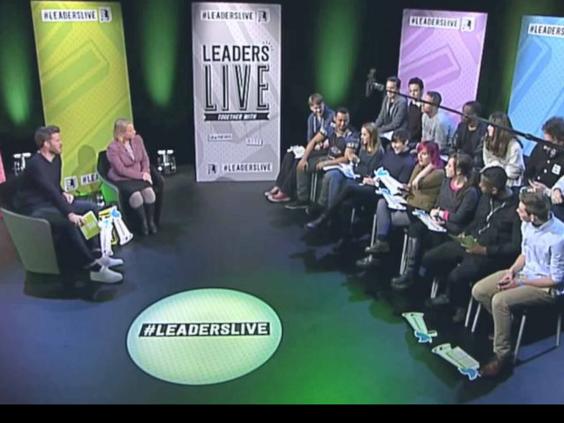 Brand awareness: campaigns like Bite the Ballot attempt to connect with a young demographic who could determine the general election
"Social media is no panacea," says Paul Bennun, chief creative officer at the content company Somethin' Else, whose clients include The Brit Awards. "It's not just another media channel, but a different way of engaging, which works best by being genuinely social: listening, discussing, sharing, and few if any political parties seems to get that."
"Isis is having more success recruiting young people than the main political parties are," adds Joe Wade, co-creator of political satire and stunt show The Revolution Will Be Televised and co-founder of the content marketing agency Don't Panic, which is making a viral film for Channel 4 to encourage young people to vote. "The UK's main political parties are making little effort to effectively engage younger voters. Given how unpopular they are with many of them, it's in the Coalition's interest not to have young people turn out to vote," he says, pointing to the success of non-establishment initiatives.
Bite the Ballot, for one, which is a non-partisan UK youth democracy movement. In an attempt to replicate the success of the celebrity-led Rock the Vote campaign to mobilise young voters in the US, it recently joined forces with ITV News to host live online Q&As with four of the five biggest party's leaders, and was viewed by 100,000 16- to 24 year-olds online. Only David Cameron declined – a refusal that may have greater impact than whatever he would have said.
"The 'if you don't vote, don't complain' argument is unlikely to change young people's behaviour," says Steve Hastings, a planning partner at Isobel. "A better approach is to frame the idea of voting differently – to do it to stop Ukip getting in. Or use the world situation to point to something like Isis, which is extremist and totally undemocratic and ask: would you rather have a system like that?"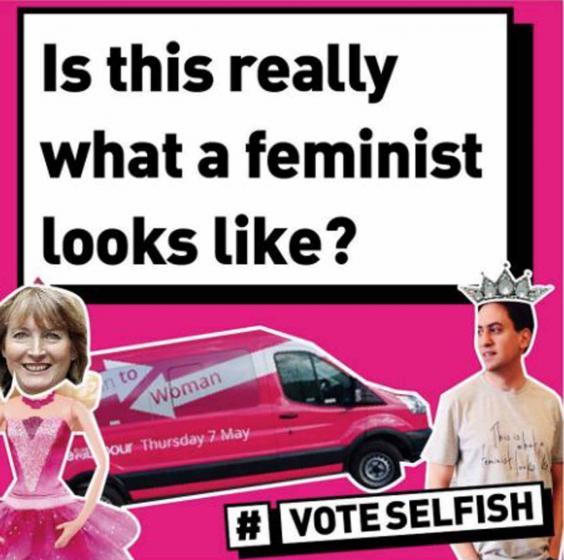 The #VOTESELFISH campaign
Wade endorses this. "Our approach is reverse psychology," he explains. "To use satire and stunts rather than posters and TV to tell young people: if you don't vote, look what government gets away with."
"The real challenge is about connecting 'politics' with what matters to young people at a time when many think of politics as something… that's all a bit sleazy, and pretty much irrelevant to them," says Williamson. His #VOTESELFISH campaign uses social marketing techniques and original content – comment, cartoons, film and links to relevant information – to bring the issues to the fore and provoke interest and debate among young voters about what matters to them most. One aspect of the website – entitled "I like to party, which party should I party with?" allows you to take a quiz where you vote for your favourite policies as opposed to personalities.
"This is a move away from selling party leaders or reasoning with young people about why it's their responsibility to vote… to focus on what matters to them most," says Williamson. "Because the only way to get young people to engage with the general election is through what motivates anyone to vote: pure self-interest.
"The reason over-55s are getting government bonds with special interest rates is because it is they who will turn up on the day to vote. Everyone votes selfish for what best serves their own interests, so why shouldn't young people? And if they do so in sufficient numbers, it's young people who will swing the vote."