The Prime Minister met the President of the European Council at Downing Street
Joe Watts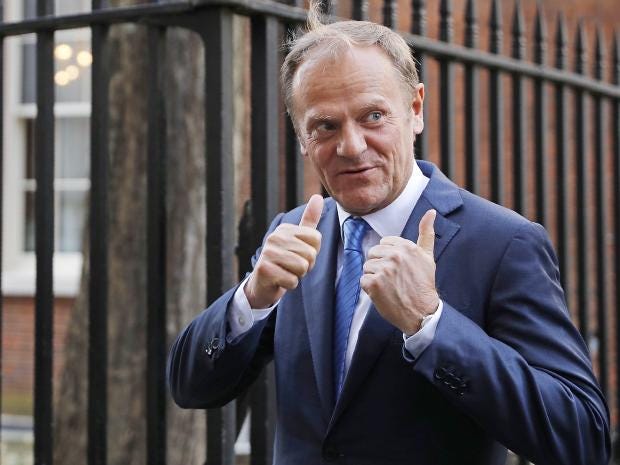 The issue of Gibraltar arose after Mr Tusk's draft negotiating guidelines for the EU effectively said Spain would be given a veto over any deal that would affect the status of the territory Getty Images
Theresa May and Donald Tusk have agreed to try and "lower tensions" over Gibraltar in Brexit talks following the recent furore over the issue.
The Prime Minister made clear however that there would be "no negotiation on the sovereignty" of the British territory without the consent of its population.
The two leaders met to discuss pending Brexit negotiations amid concerns that Gibraltar could become a flash-point in an already difficult situation.
Their meeting at Downing Street comes after former Tory leader Michael Howard suggested the UK would go to war over Gibraltar in the same way it had over the Falklands.
Sources at both No 10 and in Brussels said two hours of talks between Ms May and European Council President Mr Tusk on Thursday were friendly.
On Gibraltar, an EU source added: "They agreed to stay in regular contact throughout the Brexit process to keep a constructive approach and seek to lower tensions that may arise, also when talks on some issues like Gibraltar inevitably will become difficult."
A Downing Street official went on: "The PM also made clear that on the subject of Gibraltar, the UK's position had not changed, the UK would seek the best possible deal for Gibraltar as the UK exits the EU and there would be no negotiation on the sovereignty of Gibraltar without the consent of its people."
The issue of Gibraltar arose after Mr Tusk's draft negotiating guidelines for the EU effectively said Spain would be given a veto over any deal that would affect the status of Gibraltar, a territory it has desired to take back from the UK for many years.
Tensions became further strained following Lord Howard's unexpected intervention, in which he said: "Thirty-five years ago this week, another woman prime minister sent a taskforce halfway across the world to defend the freedom of another small group of British people against another Spanish-speaking country, and I'm absolutely certain that our current Prime Minister will show the same resolve in standing by the people of Gibraltar."
While later ruling out any sort of military action over Gibraltar, Ms May still refused to condemn Lord Howard's comments.
At their meeting on Thursday Ms May and Mr Tusk talked further over the draft guidelines set out after the UK triggered Article 50, which will now be cemented into a Brexit negotiating mandate for Michel Barnier at a meeting of the European Council on 29 April.
The Number 10 official added: "The PM reiterated the UK's desire to ensure a deep and special partnership with the European Union following its exit, and noted the constructive approach set out by the Council in its draft guidelines published last week."
The European Parliament became the first EU institution to formalise its guidelines for Brexit talks on Wednesday, in which it said guaranteeing the rights EU and British citizens living abroad should be a priority.