Falling ad revenues have spurred media companies to find new opportunities in areas such as e-commerce and events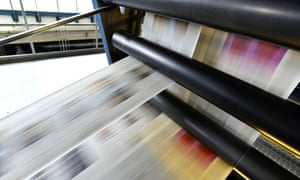 Traditional models of print media are fast become obsolete. Photograph: Rex/Shutterstock
Ben Rossi
The traditional model of a media business – a team of journalists creating content and a commercial team selling to the audience that consumes it – has reigned for centuries. Most publishers assumed, with a few tweaks, the model would survive the migration to digital and offset any losses from print.
But spending patterns are proving otherwise. While advertisers are investing more in digital advertising, the money is more widely distributed and, significantly, any growth is being
snapped up by Google and Facebook
.
Programmatic advertising has eased some pressures on online publishers, but the model favours websites with huge scale rather than brands with smaller, targeted audiences. And chasing scale often runs publishers into new challenges, such as escalating costs and diminishing quality.
"Google and Facebook have become a duopoly in digital advertising," says Gideon Spanier, head of media at
Campaign
, a magazine covering marketing and advertising. "The fast-changing media landscape means it remains risky for publishers to depend exclusively on advertising."
In the driving seat
Dennis Publishing
, which publishes more than 35 magazines and websites, is one example of a media company that recognised these challenges and has invested in product diversification, growing its revenue from £59m in 2009 to £93m in 2016.
More than a third of last year's revenue was derived from digital, but only half of it was advertising. "2016 was particularly choppy," admits James Tye, CEO at Dennis and chair of the
Professional Publishers Association
. The other half comes from e-commerce, which has become a major success story for the company.
In November 2014, Dennis acquired online car dealer
BuyaCar
and integrated the e-commerce business with its portfolio of automotive websites, such as Auto Express and Evo. Dennis now sells nearly 200 cars a month and BuyaCar generates 16% of the company's total revenue.
"We already had an audience of in-market car buyers and relationships with the car brands," says Tye. "We saw a change in consumer habit and felt there was an e-commerce potential. The margin is sizeable and we're leveraging a really important audience through our websites."
Going live
Diversification was also a top priority when Anna Jones joined
Hearst Magazines UK
as COO five years ago. Deciding how to do so meant thinking about the common ground across all of Hearst's brands, which include Elle, Good Housekeeping and Country Living.
"Our content is there to entertain people but also to give consumers confidence in some way," says Jones, who is stepping down as CEO next month. "We realised that if confidence and entertainment is at the heart of what we do, we can actually build out this business in quite an interesting way."
This thinking led to the launch of a centralised events business, Hearst Live, in January 2016. Before that, Hearst's events were managed at a brand level. By inviting readers to experience its brands in a live environment, such as Cosmopolitan's FashFest and Red's Smart Women Week, Hearst has driven substantial revenue through ticket sales and event sponsorship.
This not only connects publications with audiences in a new way, but marketers are willing to pay sizeable figures to showcase their brands. As headline sponsor of the Esquire Townhouse, for example, Dior gets direct access to Esquire's style-craving audience in between four days of celebrity talks, film screenings and fitness sessions.
While Hearst doesn't share revenue and profit figures for its events, Jones does say that both have doubled since 2015. "We've got brands that really mean something to people," says Jones. "We've found that if you're brave and you push those brands into new areas, it can really resonate with an audience."
Against the grain
The same challenges publishers face in digital advertising can also be used to their advantage in other areas of their business, such as increasing paid circulations.
"The very drivers of where marketing investment is heading – Google, Facebook – are also how I've been able to drive down the costs to recruit subscribers," says Michael Brunt, chief marketing officer at the Economist and managing director of its circulation business.
Ten years ago, the Economist's circulation division supported a very strong advertising business but, weighed down by hefty production and distribution costs, made a loss. In a reverse of fortunes, the weekly news magazine has been suffering strong decline in advertising revenues for sometime now, including a drop from £83m to £76m last year, but its circulation revenues grew 8% to £176m.
The biggest factors in this have been price increases and the Economist's investment in growing its global circulation, which stood at an average of 1,459,929 per issue in the first six months of 2016, 3% higher than five years prior. With 95% of that figure paid-for sales, more people now pay for the magazine than at any stage in its 173-year history. This wouldn't have been possible, Brunt admits, had it not been for significant spend on search and social media marketing.
"That investment has halved our cost to recruit a subscriber," he says. "Social media has been probably the most influential success driver for us, introducing the Economist to people who would have been incredibly expensive to reach through other forms of marketing."
Major challenges clearly exist in the publishing industry, but media companies can survive and thrive by looking beyond traditional business models, diversifying their product lines and seeing opportunities in the challenges they face.
Events and e-commerce are just a couple of ways publishers are building new revenue streams. Others are finding commercial value in content marketing, such as
tech publisher IDG
and
Atlantic Media
, publisher of the Atlantic and Quartz. B2B brands monetise through lead generation solutions and titles like
the New European from Archant
and
Dennis's Minecraft World
have even made new print launches successful.
There is no doubt that the media industry is facing enormous challenges when it comes to monetising brands that were traditionally structured for only one or two commercial models. However, the same forces that are causing these long-established models to crumble are enabling new opportunities for brands to evolve. The publishers that grasp this will prosper in the new world of media.