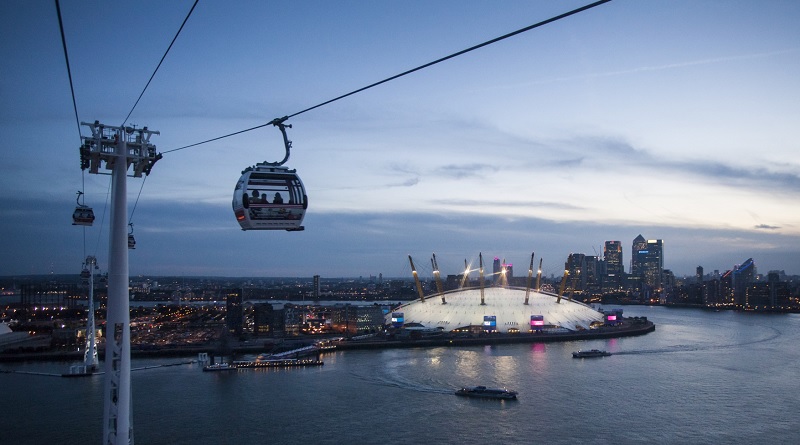 Brand urbanism is the topic of this guest post by Rinske Brand of the Netherlands. Learn about the growing importance of branded public spaces and brand partnerships in cities, and how cities like London, Madrid, Manila and Ghent have seized brand urbanism as opportunity in times of tight city budgets.
In the rapidly-changing media landscape, brands are always seeking to increase brand awareness in a meaningful way. When you consider that governments are spending less on the public space and budgets are dwindling, it's easy to see the vast potential for new forms of urban development.
What if companies and brands spent a fraction of their massive advertising budget on making our urban environments better, more attractive, healthier places to live? Imagine the incredible things we could achieve with just 1 per cent of the thousands of billions spent worldwide every year.
In the past, our city councils tackled our urban challenges. It was their job to make cities accessible, safe, healthy, attractive places with plenty of outdoor space. But now, our city councils simply don't have the funds to achieve all of these ambitions.
With 'brand urbanism' brands and corporations are investing money on urban development projects like parks, infrastructure and means of transportation.
Could brand urbanism, in which brands help to make the city a better place, be the future? Is this the new way of city-making? And if so, what is holding us back? Why isn't brand urbanism already happening in every city across the globe?
What is brand urbanism?
Brand urbanism is a proven strategy in various, primarily Anglo Saxon, countries and one in which companies heavily invest. Brands have been known to finance specific projects to the tune of 50 million euro. Last year the Dutch online platform PopUpCity conducted extensive research into 'brand urbanism' and arrived at the following definition:
Brand urbanism is collaboration between a city and a brand in which the brand (partly) launches or funds a project in exchange for visibility. Brands finance brand urbanism projects from their marketing budget, often substituting them for other forms of advertising.
Running tracks and cable cars
Nike, for instance, recently transformed a vacant plot in the middle of one of Manila's residential districts, into a state of the art running track. Shaped like their latest running shoe, and equipped with cutting edge technology. Now you can monitor your progress with a variety of apps and compete against avatars of yourself and your friends or go head to head with the world's greatest athletes.
Another great example – the Emirates Air Line in London. The kilometre long cable car crosses the River Thames. And it's not just a short-cut for commuters shaving time off their daily journey; it's a tourist attraction, too. The City of London entered into a 10-year partnership with Emirates Airline, which sponsored 1/3 of the total costs. One of the conditions was that the cable car was named after the brand.
But this kind of project isn't just happening in the
US
and the
UK
. Brand urbanism is alive and well in Belgium, too. In Ghent, a beer brewer sponsored a night-time bus service and AkzoNobel donated paint to revamp Charleroi, recently voted Belgium's ugliest city. Residents and local artists banded together and painted their town in rainbow colours.
Why would brands invest in the city?
Brand urbanism is a chance for brands to have a positive impact on the city and the local community. The brand's involvement helps to make the city a little better. A well-executed brand urbanism project benefits both the brand, and the local community.
A poorly-conceived plan reflects badly on the brand. Unsuccessful projects are those with no logical connection between the brand and the urban project, and which feel more like advertising campaigns than urban rebuilding. One such example is Vodafone's adoption of a
Madrid
Metro station in 2013, which it renamed 'Sol'. The operation cost a whopping 1 million euro. Following a storm of protest, the sponsorship deal was recently terminated.
Three types of brand urbanism
Broadly speaking, there are three types of brand urbanism.
The first, 'light', version isn't really brand urbanism at all. Brands come up with short-lived interventions in the city. Like Coca-Cola, which literally rolled out a one-day pop-up city park. The concept was part of the 'Roll out happiness' campaign, and was accompanied by cool feel-good clips. It was aimed purely at promoting the company's brand, had a short-term effect and had no benefits in the long run. Basically, it was a kind of guerrilla marketing.
The second type of brand urbanism involves brands contributing to the community by partnering up on a particular project. Take Nike and their project Biketown, for instance. They struck a partnership deal in Portland to grow the 'shared bike project' – or more precisely a bright orange public bike scheme. Vivid orange bikes bearing a subtle 'Biketown' logo and, of course, the celebrated Nike Swoosh, will soon grace the streets of Portland. With Nike as partner, Portland now has 1,000 bikes rather than the original 400. The Nike bike is stylish and hip, and backed by a slick campaign.
In the third variant, companies engage in a long-term relationship with a city or make a durable commitment to
placemaking
(when users of a place play an active role in developing their community). In other words, the brand invests in the local community.
South West Airlines exemplifies this approach. The company, which says its core value is 'connecting people', found a match with placemaking. They began a large-scale project with the New York organisation Projects for Public Spaces (PPS). SWA finances placemaking initiatives in cities serviced by the airline, enabling the projects to considerably grow in scale. And in exchange for hefty funding, ranging between 100,000 and 200,000 dollars per city, SWA demands surprisingly little brand visibility.
As Megan Lee, SWA's Senior Manager of Community Outreach observes: 'We really want to invest in the cities we serve and help build resilient cities.' The airline's clients and personnel live in these cities too, and SWA believes you should be proud of where you live and work.
What typifies brand urbanism?
Successful brand urbanism projects require substantial budgets and intensive collaboration between local stakeholders and in many cases the local government, and the brand. The brand must be sincere in its ambition to invest in the city, and satisfied with a return on investment expressed in free publicity and softer outcomes, such as a transformed and vibrant public space. Brands should also be aware that costs vary significantly from city to city. A campaign in London demands far greater investment than one in a town like Leeds.
Could all cities benefit from this kind of teamwork? Every city has places that could use a bit of loving care. Or fantastic plans that are beyond the reach of shrinking council budgets, but which are perhaps achievable with the support and resources of brands.
Some city councils are a bit uncomfortable about involving commercial brands in creating the city. And brands might not quite know where to begin and how to do it. But with these kind of examples, brand urbanism is too promising not to explore. Guided, of course, by parameters and clear intentions from both brands and cities.
Let's start building partnerships between brands and cities and make our cities better places to live.