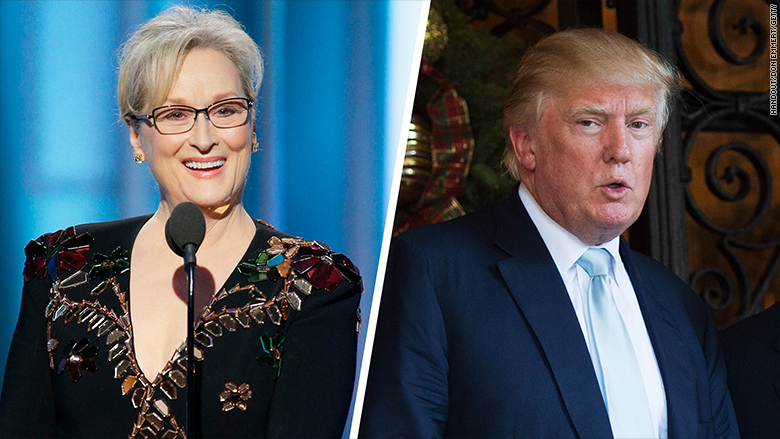 The Committee to Protect Journalists responded on Twitter: "Thank you Meryl Streep for your generosity & support of our mission to protect journalists and press freedom around the world #GoldenGlobes."
"My jaw is on the floor," tweeted Sarah Kate Ellis, president of GLAAD. "Thank you Meryl Streep, you gave the speech that needed to be given."
"Modern Family" star Jesse Tyler Ferguson stated: "Meryl Streep giving an epic and powerful speech at the #Golden Globes."
Carrie Rickey, a film critic wrote on Twitter: "#MerylStreep, I love you. Thank you for your spine, your heart and your empathy." And CNN's Don Lemon wondered: "Is #MerylStreepForPresident trending yet?"
Others were considerably less appreciative.
"Actress Meryl Streep uses her Lifetime Achievement Award speech to bash @realDonaldTrump. How imaginative! How creative!Yawn." conservative radio host Laura Ingraham wrote.
Actress Meryl Streep on Sunday called out President-elect Donald Trump during a speech at the Golden Globes — without even mentioning his name.
Streep, who was being honored with a lifetime achievement award, alluded to Trump's proposal for a stricter vetting process for immigrants and slammed him for mocking New York Times reporter Serge Kovaleski.
"An actor's only job is to enter the lives of people and let you feel what that feels like … there was one performance this year that stunned me," said the actress, who was also nominated for her performance in "Florence Foster Jenkins." "It sank its hooks in my heart. It was that moment when the person asking to sit in the most respected seat in our country imitated a disabled reporter — someone he outranked in privilege, power and the capacity to fight back.
"It kind of broke my heart when I saw it."
Streep continued by saying: "This instinct to humiliate, when it's modeled by someone in the public platform, by someone powerful, it filters down into everybody's life, because it kind of gives permission for other people to do the same thing. Disrespect invites disrespect. Violence invites violence. And when the powerful use their position to bully others, we all lose."
During her nearly six-minute speech, Streep also urged in her speech to support the Committee to Protect Journalists "because we are going to need them going forward."
"This brings me to the press. We need the principled press to hold power to account, to call them on the carpet for every outrage. That's why our founders enshrined the press and its freedoms in our constitution."
Streep's speech caused an avalanche of reaction on Twitter.