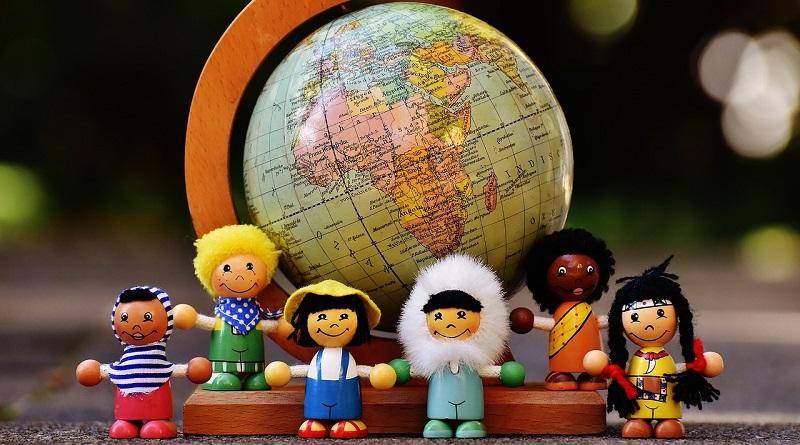 In times where perceptions seem to matter more than facts, place brand managers and developers are well advised to keep a close eye on surveys offering insights into the image and reputation of their city, region, or country. Below press release summarizes the results of the Anholt-GfK Nation Brands Index 2016
This survey assesses the image of 50 countries. Research was conducted during July among citizens of 20 nationalities (see below for details on methodology). The resulting index gives us a glimpse of how people's perceptions of countries change over the years, and offers country brand managers and policy makers useful insights into which areas they might want to focus on to enhance their country's overall reputation.
The survey for the 2016 Nation Brands Index was conducted just after the UK Brexit referendum but long before Trump's victory in the USA. We are curious how the latter will affect Brand USA as reflected in next year's ranking!
2016 Anholt-GfK Nation Brands Index: Key findings
Multiple ranking shifts among top ten
Germany, UK also experience strong declines in global perception of their national brands
Canada jumps ahead of France to 4th place, with only a narrow gap between it and the top three
Results from the latest Anholt-GfK Nations Brand IndexSM (NBISM) study show that the United States experienced a significant reputation decline compared to 2015 – but still held on to the #1 ranking.
All of the top ten countries suffered fall in their global reputation this year – with eight of those drops being classed as "significant."
The Anholt-GfK study measures global perceptions of 50 developed and developing countries – and is unmatched in the level of detail on which the nation ranking is judged.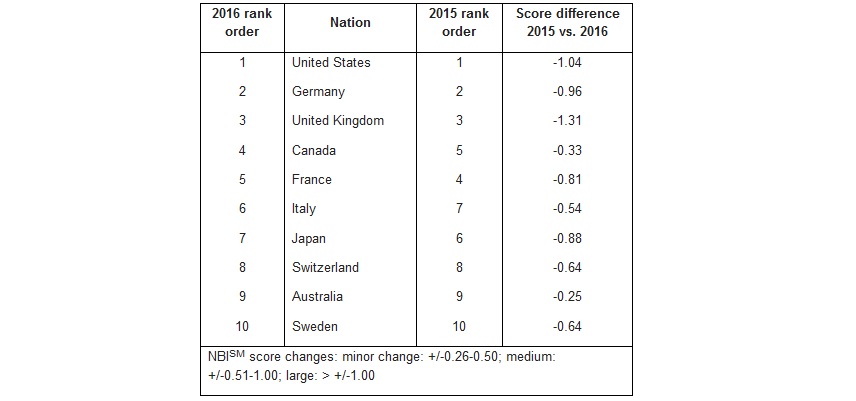 US weak spot: Governance
The drop in scores for all of the top ten countries marks a stark departure from 2015, when eight of the top ten countries improved their overall NBI score. This year, the US and UK suffered the largest decreases – of over one point each.
For 2016, the US scored strongly in the categories of Exports (#1 worldwide), Culture (#2), Immigration & Investment (#2), Tourism (#3), and People (#5). The country's lone weak spot is the Governance metric, where the US ranks 19th – down one place from 2015. (Note: The 2016 NBI surveys were conducted before the recent US presidential election.)
Opportunities for Germany, Canada
Declines in NBI scores do not necessarily produce changes in the overall rankings – at least, not immediately. The US, Germany, and the UK maintain their 1st, 2nd, and 3rd place finishes – however, the US now holds only a nominal edge over Germany, presenting Germany with an opening to reclaim the top spot in the coming year. Similarly, Canada – now in 4th place, having overtaken France – is breathing hard on the heels of the UK.
Outside the top three positions, there have been multiple changes of position, signaling a sharp contrast to the stability observed prior to 2015. France's significant score drop, driven largely by losses in its perceived Governance and Immigration & Investment, has allowed Canada to capture 4th place, leaving France in 5th. This year also marks the end of what was Japan's rolling comeback, as the nation went down in ranking from 6th place to 7th. This allowed Italy to move up one position, compared to 2015.
Anholt: "Changes can and do take place"
Simon Anholt
, the independent policy advisor who created the NBI study in 2005, comments, "Usually, global perception of individual countries is incredibly stable – but changes can and do take place. It is a country's perceived impact on the world that affects its global reputation, far more than its assets or achievements- – and this is what we are seeing here. Those countries that are perceived as being world influencers are suffering following a year of ongoing international conflict and humanitarian issues."
Vadim Volos, GfK's Senior Vice President of Public Communications and Social Science, adds, "How a nation is perceived is a function of both long-standing attributes (such as stereotypes of its people or region and images of its natural and social environment) and short-term influences (such as positive or negative news coverage or dramatic events). Each nation has some ability to impact either of these areas, by promoting the nation's key positive assets to drive up inbound tourism and investment. But dramatic shifts in reputation can take time. Our study shows our clients where their nations stand in terms of their current image, momentum and potential – helping them to determine their best path to success: a strong nation brand."
Conducted annually, the study measures the image of 50 countries, with respect to Exports, Governance, Culture, People, Tourism and Immigration/Investment. In 2016, a total of 20,353 interviews were conducted online in 20 panel countries with adults aged 18 or over. Data are data weighted to reflect key demographic characteristics of the 2016 online population in each country, including age, gender and education. Additionally, in the US, UK, South Africa, India, and Brazil, race/ethnicity has been used for sample balancing. Fieldwork was conducted from July 7 to July 25, 2016.
The 50 countries included in the Nation Brands Index 2016:
North America: USA, Canada, Cuba*
Western Europe: UK, Germany, France, Italy, Spain, Ireland, Scotland, Sweden, Denmark, Holland, Switzerland, Finland, Austria, Greece, Northern Ireland*
Central/Eastern Europe: Russia, Poland, Czech Republic, Hungary, Turkey, Kazakhstan*
Asia-Pacific: Japan, South Korea, China, India, Thailand, Indonesia, Singapore, Taiwan, Australia, New Zealand
Latin America: Argentina, Brazil, Mexico, Chile, Peru, Colombia, Ecuador
Middle East/Africa: United Arab Emirates, Iran, Egypt, Saudi Arabia, South Africa, Kenya, Nigeria, Qatar.