NZ government's website records huge spike in queries from British nationals in the wake of referendum vote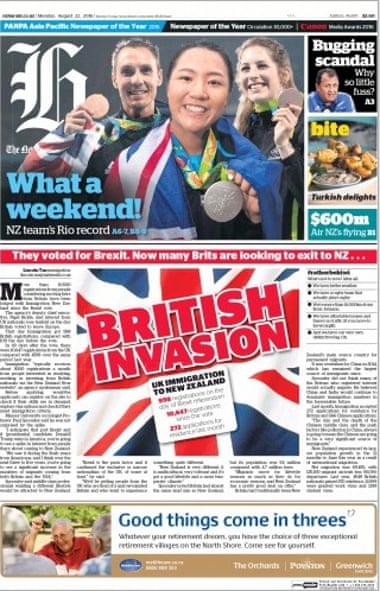 On the day of the Brexit referendum the New Zealand government website received 998 registrations from British nationals, compared to 109 at the same time the year before. Photograph: EyesWideOpen/Getty Images
The
New Zealand
media have warned of a "British Invasion" after government data revealed huge spikes in the number of queries from Britons in the wake of the Brexit vote.
Typically the
Immigration New Zealand website
receives 3,000 registrations a month from British nationals interested in moving to, working or investing in New Zealand.
What is it really like to live in New Zealand?
But on the day of the Brexit referendum the website received 998 registrations from Britons, compared with 109 at the same time the year before. Anyone who registers will get
regular updates and more detailed information
on moving to New Zealand.
In the 49 days following the Brexit vote more than 10,000 British nationals registered their interest – compared with 4,599 during the same period the year before.
On Monday the New Zealand Herald
ran a story on the increase
on its front page, with an illustration declaring a "British invasion".
The New Zealand Herald's front page, leading on its story about a 'British invasion'. Photograph: New Zealand Herald
Prof John Morgan, a British expat and academic at the University of Auckland, said the current wave of interest in New Zealand reminded him of the "political refugees" from the 1980s who fled the Thatcher government.
"New Zealand is really appealing for Brits because it's a similar size and culture," said Morgan.
"There is this pervading idea that New Zealand is some sort of relic of 1950s Britain, a place to escape, a place to go back in time. That is not true, but it is generally true that New Zealand does avoid the worst trappings of modern, consumerist culture. There is a rush hour – but it is just an hour."
Neal Curtis, a media studies lecturer at the University of Auckland and another expat, said he emigrated to New Zealand to escape the Tories, but the country of British imaginations was a long way from the reality.
"New Zealand still has a legacy as a colonial outpost, as a liberal, socially progressive oasis on the other side of the world," said Curtis.
"It can be quite a shock when you arrive to discover it is really just a more spacious version of what you left behind."
According to Immigration New Zealand, in the year to June, 4,934 Britons were granted residency, 22,633 Britons were granted work visas and 1,176 Britons were granted student visas.